Warning Signs Of A Ice Dam
Ice Dams can sneak up on anyone and rooftop ice and snow can quickly turn into a damaging ice dam overnight. With a little ice dam knowledge and some careful observation ice dam disasters can ban be avoided. Here are some ice dam warning signs to watch out for on your own home or commercial building.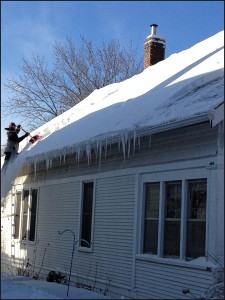 1. Ice is forming on my gutter and the edge of my roof. Do I have a ice dam? Yes
This is a sure sign that ice dams are starting to form. Be proactive and have the snow removed from above the gutter, roof and ice dam to prevent further building of the ice dam and water from leaking in. If you caught the ice dam soon enough this may allow the sun to do its work and melt the ice dam off before more snow arrives.
2. Ice is forming on the side of my home under my soffit. Do I have a leaking ice dam? Yes
This is a sure sign that your melting snow has caused the ice dams to form and now your roof is leaking. Even though you don't see water damage inside of your home you do have a roof leak and it all starts and ends with a ice dam. When Ice is on your siding or hanging on the underside of your soffit and no water leaking is present in your home you can be sure that you are only a few days away from having a wet ice dam damaged ceiling. Have the ice dams safely removed from your roof by hiring a MN ice dam removal company and your rooftop ice dam leaking will stop.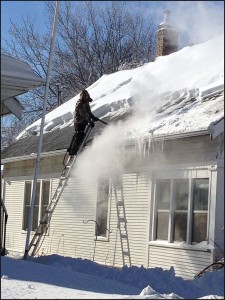 3. Do I have ice dam leaks if I have new water spots on my ceiling or water dripping from my ceiling? Yes
You have a leaking ice dam and you should if at all possible make it a priority to have them safely removed by a MN ice dam removal company. Now you are on ice dam damage control.  Drilling small 1/2″ diameter holes in your ceiling where the ice dam damage dripping is occurring is usually not a bad idea at this point in time. In the least this will relieve some of the water in your ceiling. Use a short drill bit to make the holes in your ceiling and try to only allow the drill bit to go into the ceiling the thickness of your ceiling material. Do this to avoid hitting any electrical wiring. (example- sheetrock is usually 1/2 to 5/8″ thick and plaster may be up to 3/4″ thick) If you're still unsure of your ceiling thickness simply and carefully remove a lighting fixture and check around the electrical box to inspect your ceiling material thickness. Remember to turn off the power leading to that fixture. Don't forget to get some pails and towels ready to catch and clean up any water caused by the ice dam leak. Because of this type of winter ice dam roof leak your insulation and ceiling will usually be saturated with water. This type of MN ice dam evidence is a sure sign of ice dam damage repairs in your MN homes future. Unattended wet insulation and sheetrock damage can lead to mold growth in your home caused by damaging ice dams, After you have your ice dams removed find a company that can help guide you through your ice dam damage repairs.
4. Do I have a ice dam leak problem if water is dripping on the inside of my doors or window frames? Yes

Don't wait any longer to call a ice dam removal company at this point in time. Water is now in your wall cavity and possibly your ceiling. Ice dam damage that is caused by your rooftop ice dam leaking is now compromising your walls, roof and ceiling from the inside out. Possible materials damaged by the ice dam will be wall insulation, wall framing, wallboard(sheetrock or plaster), window trim, door trim, electrical wiring, flooring, base trim, roof sheathing etc…. All caused by rooftop ice dam leaking.
5. Do I have ice dams leaking if I have water dripping from my light fixtures? Yes
Turn off any lights that may be suspect of having been exposed to ice dam water leaking. Next call a ice dam removal company to remove your rooftop snow and ice immediately. Remove your lighting fixtures to prevent further damage and consult an electrician or a qualified individual to assess your homes ice dam damage electrical situation.
MN Steam Ice Dam Removal Company 

1-(833)-ROOF-ICE

MN Ice Dam Prevention Company
These are just a few of advisable signs to look for and actions to take in the event you suspect you have ice dams leaking in your home. All of these advised remedies will vary with every situation. If you discover ice dams on your home or commercial building and aren't sure what actions to take feel free to contact us so that we may remove your ice dams or answer any questions you might have. Look to us if your in need residential or commercial ice dam removal, ice dam prevention or ice dam repair services.