We offer Brainerd ice dam removal services. If you have a roof leak or excessive amounts of ice on your roof and in your gutters, we can help. With over 12 years of experience in the steam ice dam removal service industry. With the use of high temperature, low-pressure rooftop ice and snow steaming equipment. We offer our Brainerd ice dam removal service in Baxter, Gull Lake, Nisswa, Pequot Lakes and, Cross Lake areas today.  
Ice Dams Removed service was fast and reasonably priced! I couldn't have asked for a better Ice Dam Removal experience! Good job guys!

Mr. Foster 

Ice Dams Removed responded right away during a severe storm with much snow and ice. Our Ice Dam situation would have been much worse without them. Great Job!

Mr. Mecca

" 5 Stars across the board! Ice Dams Removed did a great job. Very happy with the service."

L. Babcock

Fast and Friendly Ice Dam Removal Service. They took care on my roof and did it right.

Very Good Job To The Team At Ice Dams Removed! I recommended your Ice Dam Removal Services to friends. Thank You!

 R. Tonueci

Overall experience with Ice Dams Removed was EXCELLENT! The Ice Dam Removal was timely and thorough!

C. Bauer

The ice dam removal experience was a positive one. All ice dam steaming technicians involved were friendly and professional.

Mrs. Beers 
Service Areas
Brainerd
Baxter
Nisswa
Crosby
Gull Lake Area
Pequot Lakes
Cross Lake
Nisswa
East Gull Lake
Breezy Point
Lake Shore
Walker
Little Falls
Roof Leak Stop Guarantee!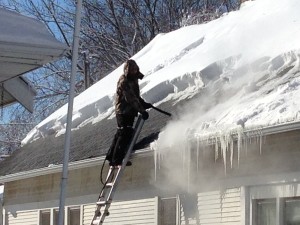 Your Brainerd Area Steam Ice Dam Removal Service
Do you need steam ice dam removal in Brainerd MN? An ice dam is the build-up of roof ice caused by snowmelt.  Snowmelt caused by heat loss from your home. The water from the melting snow turns to ice at the bottom of your roof. This happens because the bottom of your roof is generally colder than the upper portion. Ice dams can often cause a roof leak. We have seen damaged walls, watersoaked insulation, damaged ceilings, and flooring. We have also seen many damaged roofs from the result of improper ice dam removal. That is why we use steam equipment that is safe for your roof. 
We Provide:
Roof leak stop guarantee.
Ice Dam Removal Technicians that are safe, courteous and on time.
24/7 emergency Brainerd ice dam services.
One of the few fully licensed and insured ice dam companies in MN.
Same day Brainerd ice dam removal service with a smile.
Experienced in working with your insurance company.
Free estimates for MN ice dam prevention.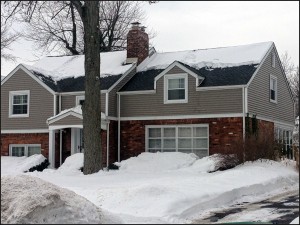 Roof Leaks & Roof Ice, How Do They Relate?
A roof leak on your home may seem a little strange in the winter months. We hear it often. "I just had a brand new roof installed. How can I have roof leaks already?"  Well, roof leaks in the winter are different than in the summer months. In the winter roof leaks are often caused by ice buildup. That ice on your roof and in your gutters is called an ice dam. Snow melts from your warming roof and creates water that flows downward.  Because a roof has warm spots and cold spots, that water can gradually freeze in the cold areas. The freezing of the water in the cold spots can begin to grow, causing an ice dam.  It can grow large enough to actually stop the water from flowing altogether. That is when the problems can start. Water soaked insulation, damaged walls, flooring, mold growth, you name, we have seen it. It is important to remove ice build up as soon as possible to eliminate and prevent ice dams.
Roof Ice
Roof ice, otherwise known as an ice dam can cause damage to your home. Having them properly removed is the key to the problem. Forming in the cold areas of your roof (often times above your roof edge) they begin to grow. Icicles start to form and drip. This often times gives homeowners the idea that the ice dam is melting. When in actuality often times this is the sign of an ice dam building.  If icicles are dripping water, this means that the snow on your roof is melting. Your icicles on the edge of your roof are oftentimes few degrees warmer than the ice above your roof line. That ice above your gutters is probably under an insulated blanket of snow that helps it to stay cool throughout the day. At night the temperatures drop. This leads to even greater ice dam build ups.
Gutter Ice
Gutter ice removal is one of the keys to successfully stopping roof leaks. It is likely that a clogged gutter is the reason that the water on your roof had a chance to freeze in the first place. We can provide you with a gutter ice melting service along with roof ice removal.